It's oh-so quiet. It's oh-so comfortable. It's a beautiful dog-friendly cottage that's perfectly placed for putting feet (or paws) into action in the Black Mountains . . . or just putting your feet up, savouring a cider and gazing at Garway Hill and the Monnow Valley.
---
Welcome to Yarlington Dairy
---
It's called Yarlington after one of varieties of cider apple we use, and Dairy as this was the site of the original dairy on the farm.
The cream of the views is from the Dairy's garden and looks across to the Monnow Valley. Look to the right and you'll see the Black Mountains, Sugar Loaf and Skirrid too!
Enjoy the private garden with patio, BBQ, seating and luxurious wood-burner-fired hot tub. The garden is securely fenced-in, so it's ideal if you're bringing your dog.
Savour sweet dreams in the deluxe bedroom complete with king-size double bed and a free-standing roll-top bath.  There's also an en-suite toilet and rather nice shower.
Eat, drink and relax in the open-plan kitchen, dining room and lounge. The kitchen is well equipped for self catering and even includes a washing machine (handy for longer stays). 
The Dairy is centrally heated so you'll be snug, but you can fire-up the log-burner when you want to be extra cosy. (We provide the logs for your first couple of fires.)
There's WiFi in the Dairy, and we get a good 4G signal on most networks. The smart TV will let you watch things on Freeview or login to your Netflix, Apple or Amazon accounts. And we've provided some books and games, so if bad weather, winter nights or a touch of laziness keep you in, you'll be far from bored!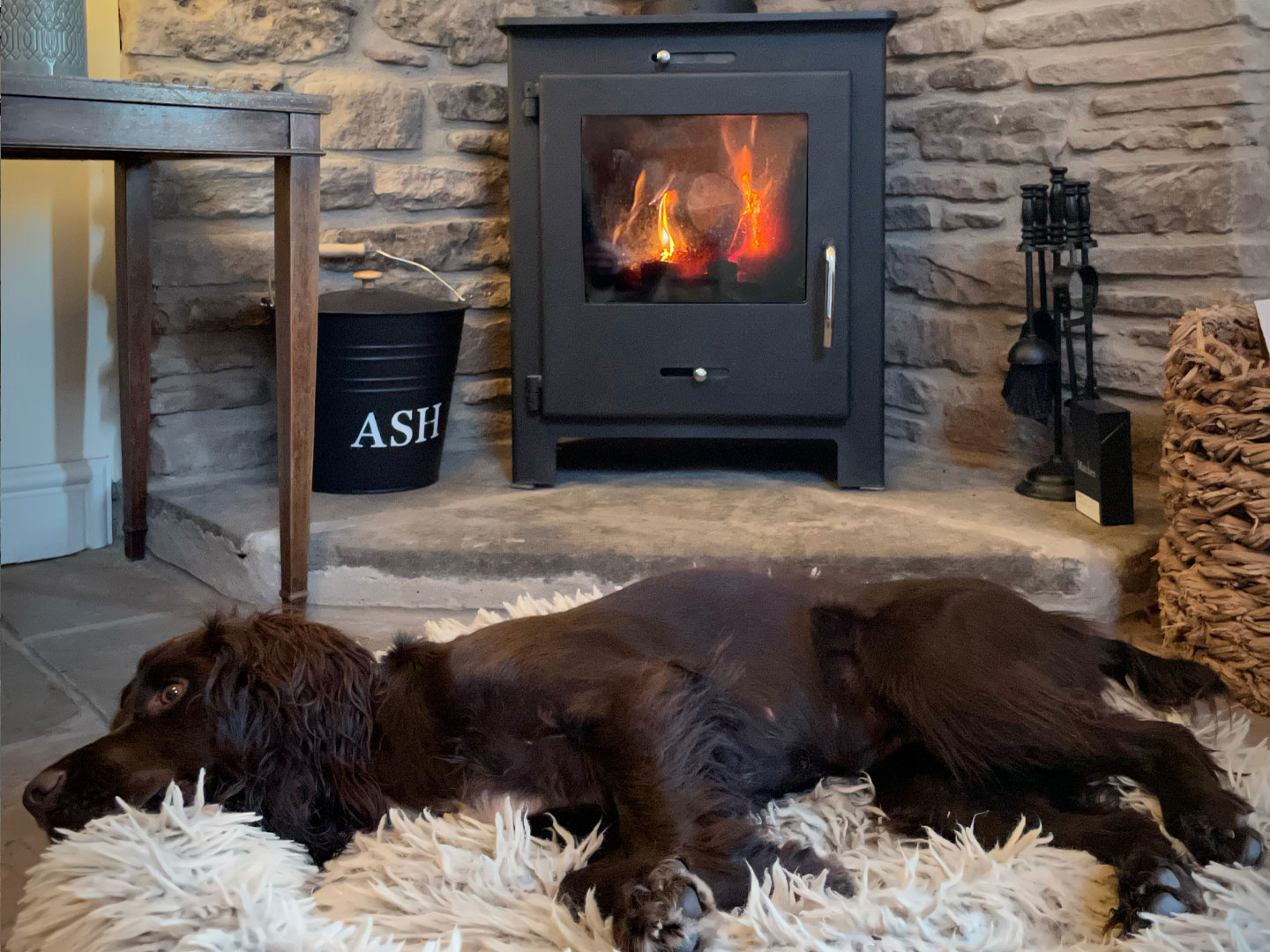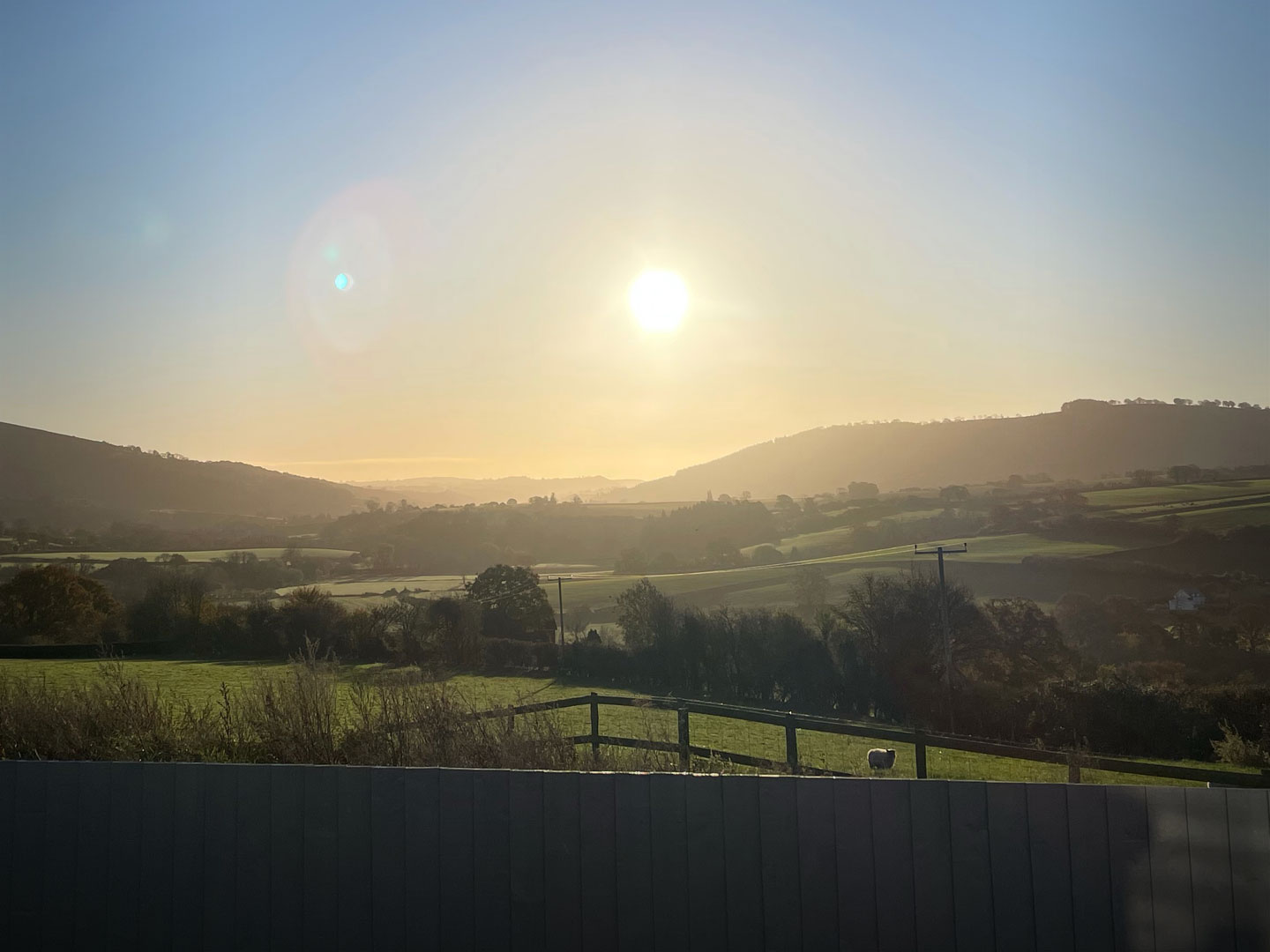 What we provide
---
All bed linen, pillows and duvet

Soap, shower gel, shampoo, conditioner

Towels, dressing gown, slippers, hairdryer

Some complimentary refreshments

Enough wood for one or two fires, and for your first dip in the hot tub

BBQ, 4-ring induction hob, pots and pans, microwave, fridge, toaster, kettle, crockery, glasses, cutlery and utensils

Travel cot available on request (suitable for a baby or toddler)
Things to note
---
A reserved parking space awaits you by the gate to the property. A gently sloping path leads down to the front door. There's a small step into the Dairy, but once inside everything is on one level.

It's self-catering, so you'll need to bring some food… but we can provide a delicious breakfast basket if you want to start your day the easy way!

Up to 2 dogs are very welcome. We just ask that they stay off of the furniture and bed. There's a handy outside tap and hose in case Muttley comes back muddy after a walk. (It's handy for cleaning boots and bikes, too!)
How to book
---
Just check availability below then email us with your dates and details. We will get back to you to confirm your booking and arrange payment. You can also book online at any time via our Airbnb pages.
Availability
---
Please note the minimum stay is 2 nights.
Prices
---
1 Apr 2023 – 31 Oct 2023
| Nights | £ |
| --- | --- |
| 2 | 300 |
| 3 | 420 |
| 4 | 520 |
| 5 | 625 |
| 6 | 720 |
| 7 | 805 |
| 10 | 1100 |
| 14 | 1470 |
Loved our stay at this cottage. The cottage is immaculate and all the little touches made it feel like home.  The generous breakfast is also well worth it for an additional £5 and comes with warm croissants delivered to your door. I'm generally very fussy when it comes to accommodation and food, but I genuinely couldn't fault anything about this place. Well done Laura, a massive thumbs up from us and we hope you will welcome us back again soon.
We've absolutely loved our stay at Yarlington Dairy! Upon arrival, the property was immaculate, very thoughtful touches with the bottles of cider and dog biscuits. Laura was a great host! The bed was super comfy, as were the linens. Everything you need for a home-from-home stay.
We had a great 4-night stay in this lovely cottage. The views from the garden are AMAZING! Cottage has everything you need and some lovely little extra touches too. Laura is a great host, very friendly welcome and was there if we needed anything. Alex's cider (on-site shop ) went down a treat too. Highly recommend a stay here if you're after a quiet getaway with lots of nearby walks.
We loved our stay at the cottage, Laura (and family) are very much super hosts – amazing communication, very welcoming and provided accommodation second to none. The perfect escape from the hustle and bustle of city life, for us and the Gino (the dog), we are already missing the natural silence – the cider a truly great added bonus. Looking forward to booking again soon.
We especially loved the properly enclosed garden (some places say 'enclosed' but as a dog owner, 'enclosed' has to mean more than some bushes around the edge!). The bedroom and bathroom set up is a stroke of genius, and the mattress was sooooo comfy. Mattresses are such a love-hate thing, but this was a winner for us. BTW, the milk in a glass bottle took me back to my childhood… and was very handy for a cuppa on arrival!
Yarlington Dairy is such a wonderful cottage. Great attention to detail and lovely design. The views out over the hills are spectacular and great to wake up to. The location is perfect for those wanting a quieter break with lots of local walks nearby and places to explore. A great garden, which is entirely dog secure, is a lovely spot to enjoy an evening cider or two. Highly recommended and will be staying again.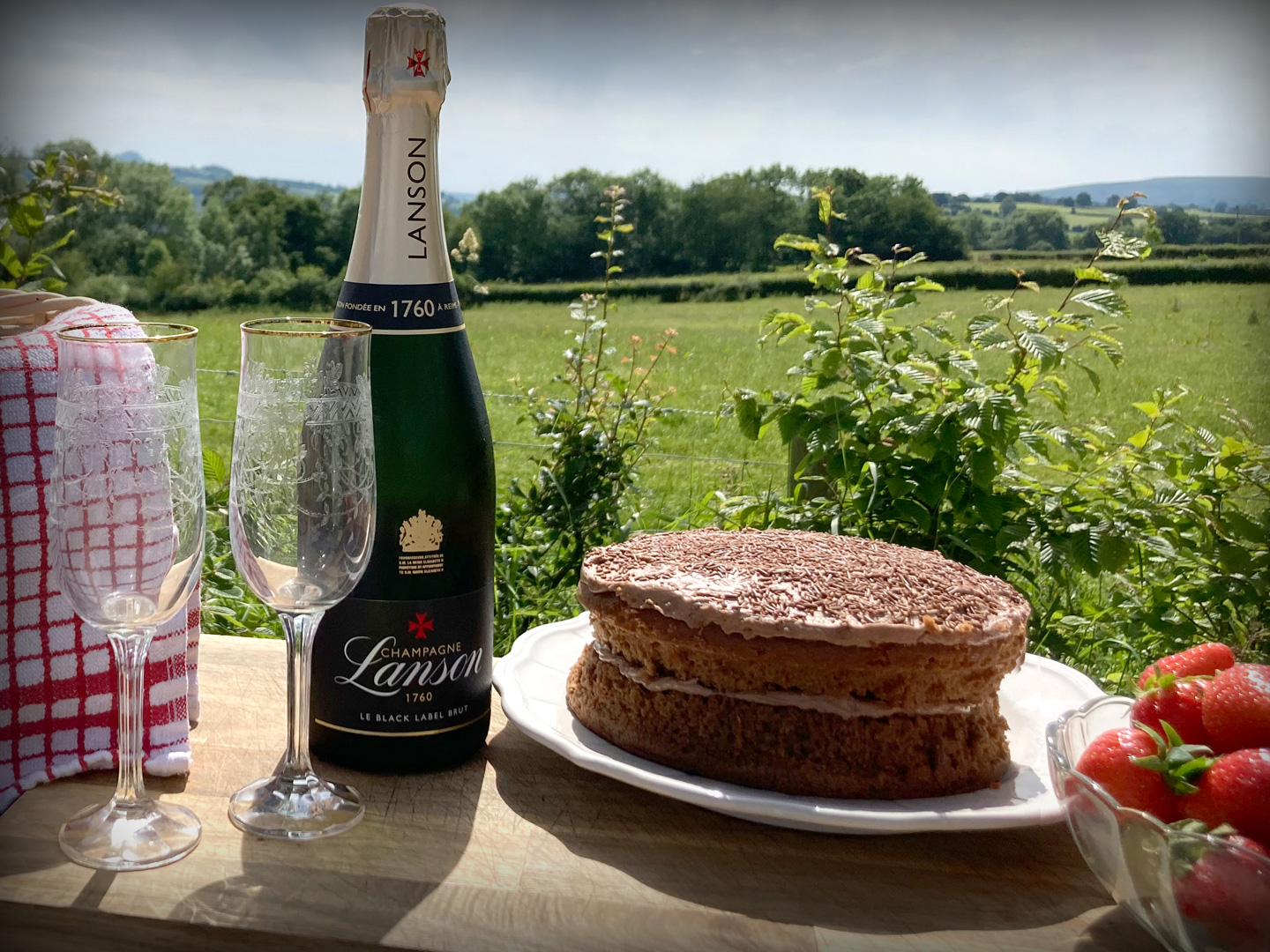 NEW! Celebration baskets
Here for a special occasion? Ready for your arrival, we can prepare a chilled bottle of Prosecco, strawberries and a cake – and put up a celebratory banner. For a little more, you can have Champagne, and add flowers and balloons.
Price on request
We'll share ordering details with you after you've booked your stay.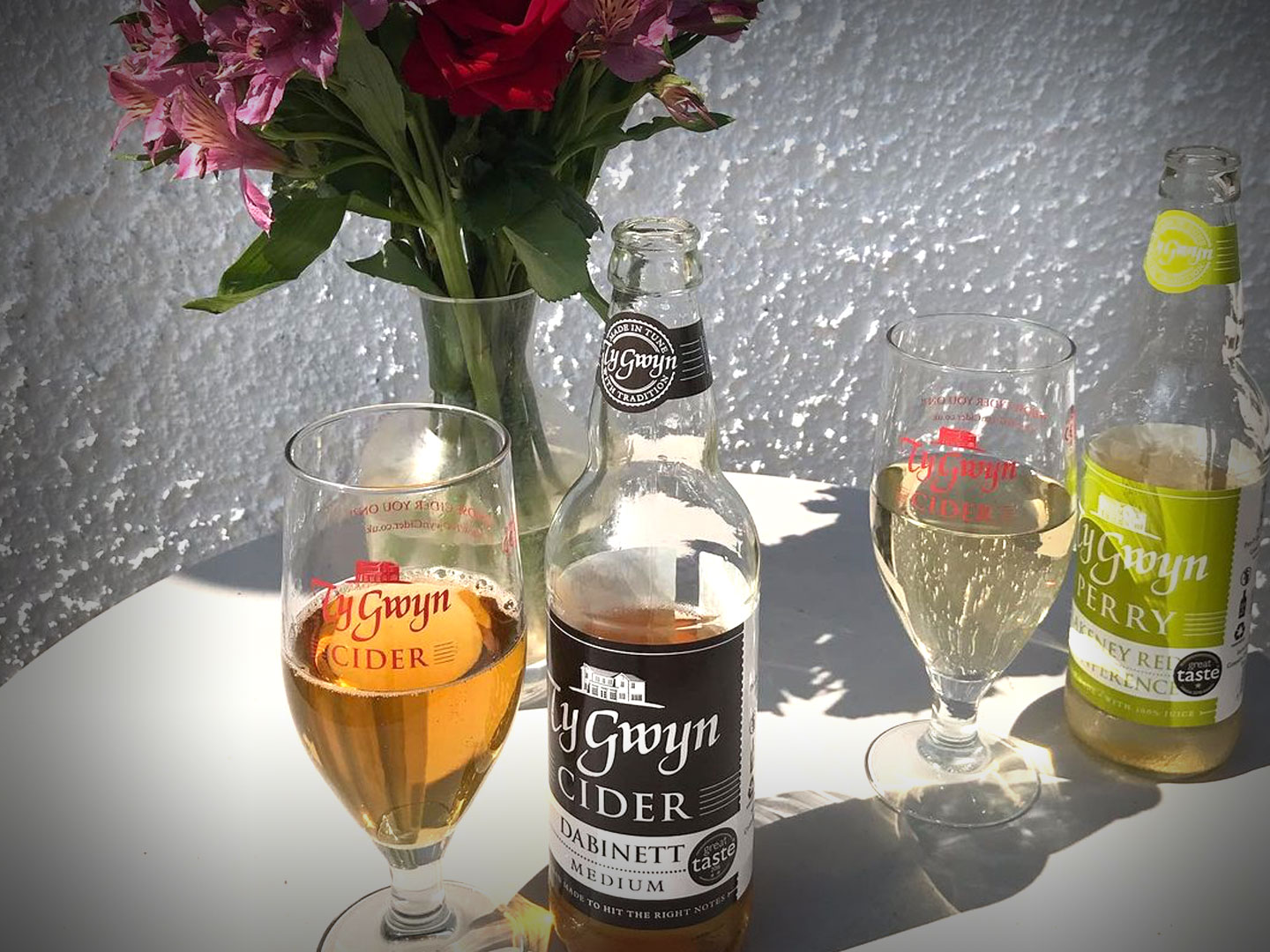 Savour a cider on arrival
Pre-order some bottles of Ty Gwyn Cider at a special guest-only price and we'll pop them in the fridge so they're nice and cold when you get here.
From £14 for four bottles
We'll share ordering details with you after you've booked your stay.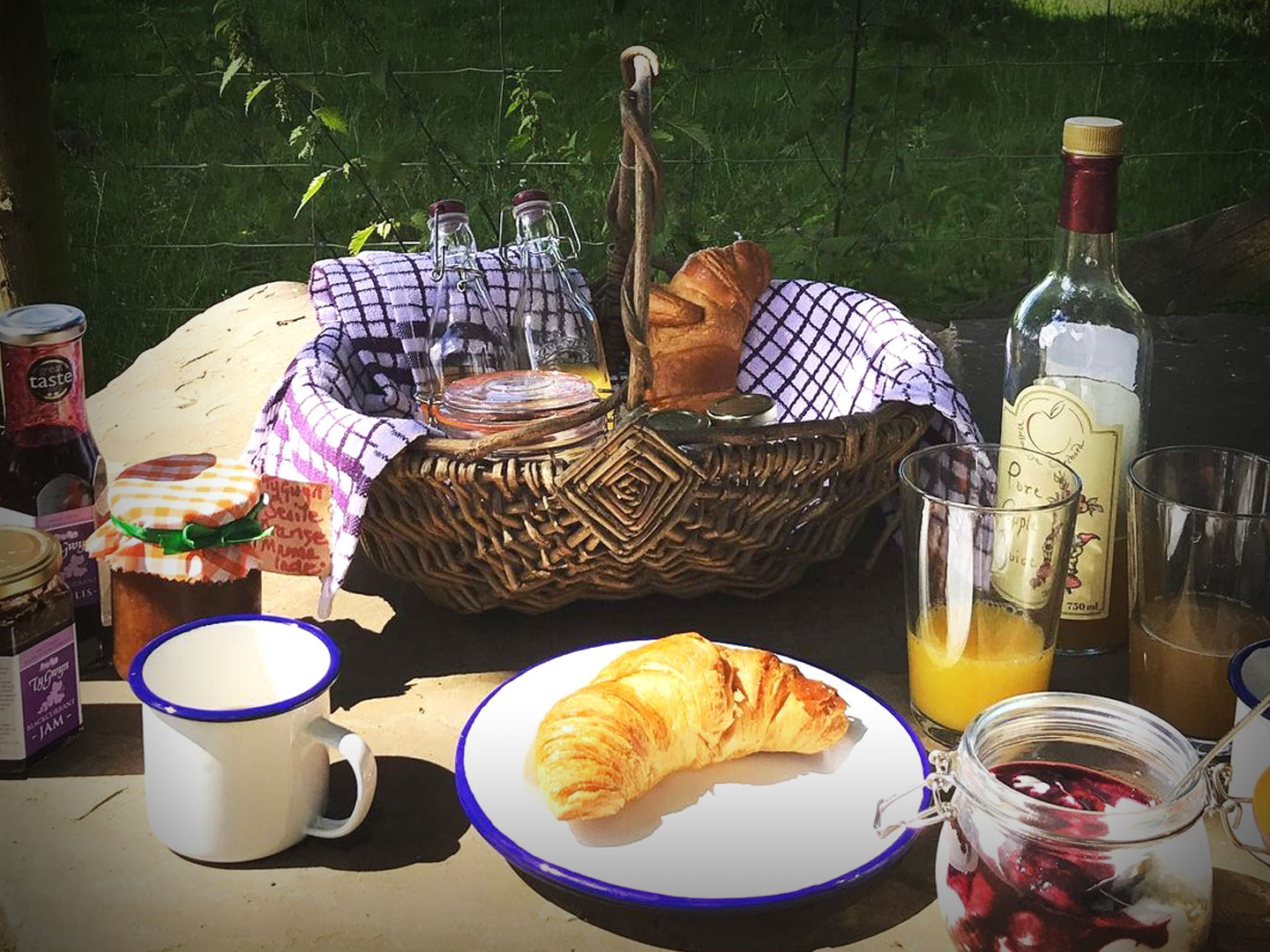 Breakfast baskets
Includes a bottle of apple or orange juice; croissant, butter, marmalade and blackcurrant jam. You also get a gorgeous pot of granola topped with natural yoghurt and blackcurrant coulis (made by Alex's mum and winner of a Great Taste award).
£7.50 per person
We'll share ordering details with you after you've booked your stay.