Looking for somewhere a bit different to stay? Want to be in the sweet spot where Herefordshire's Golden Valley meets Monmouthshire's Monnow Valley and the Brecon Beacons? The Cider Shack ticks all the boxes!
---
Welcome to The Cider Shack
---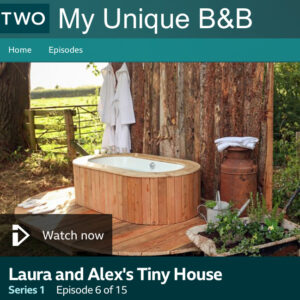 If The Cider Shack looks familiar, we're not surprised. It's is also known as the Tiny House and was featured on BBC's 'My Unique B&B'.
Shack up here with a loved one (or just a good book) and soak up the views plus a cider or two! Stunning rural vistas include the Black Mountains, Sugar Loaf and Skirrid.
Enjoy the privacy of a garden with BBQ/fire pit, benches, a hammock – and the famous sheltered outdoor bath! Indoors, the log-burning stove will provide cosy glows and warm your toes.
It's self catering so you can eat what you want, when you want. And if eating out is more your thing, we know some truly great places around and about.
Savour sweet dreams: a lush double bed is up the steps on the mezzanine. Hop from the Shack to the shed next door for the compost toilet, shower and kitchen. (Feel the need for a flush? A plumbed-in toilet is available just 30 metres away.)
We've also recently added an undercover space complete with a dart board, DVD projector and cinema screen! And for those rainy or lazy days when you don't want to stray far, we've provided some books and games too.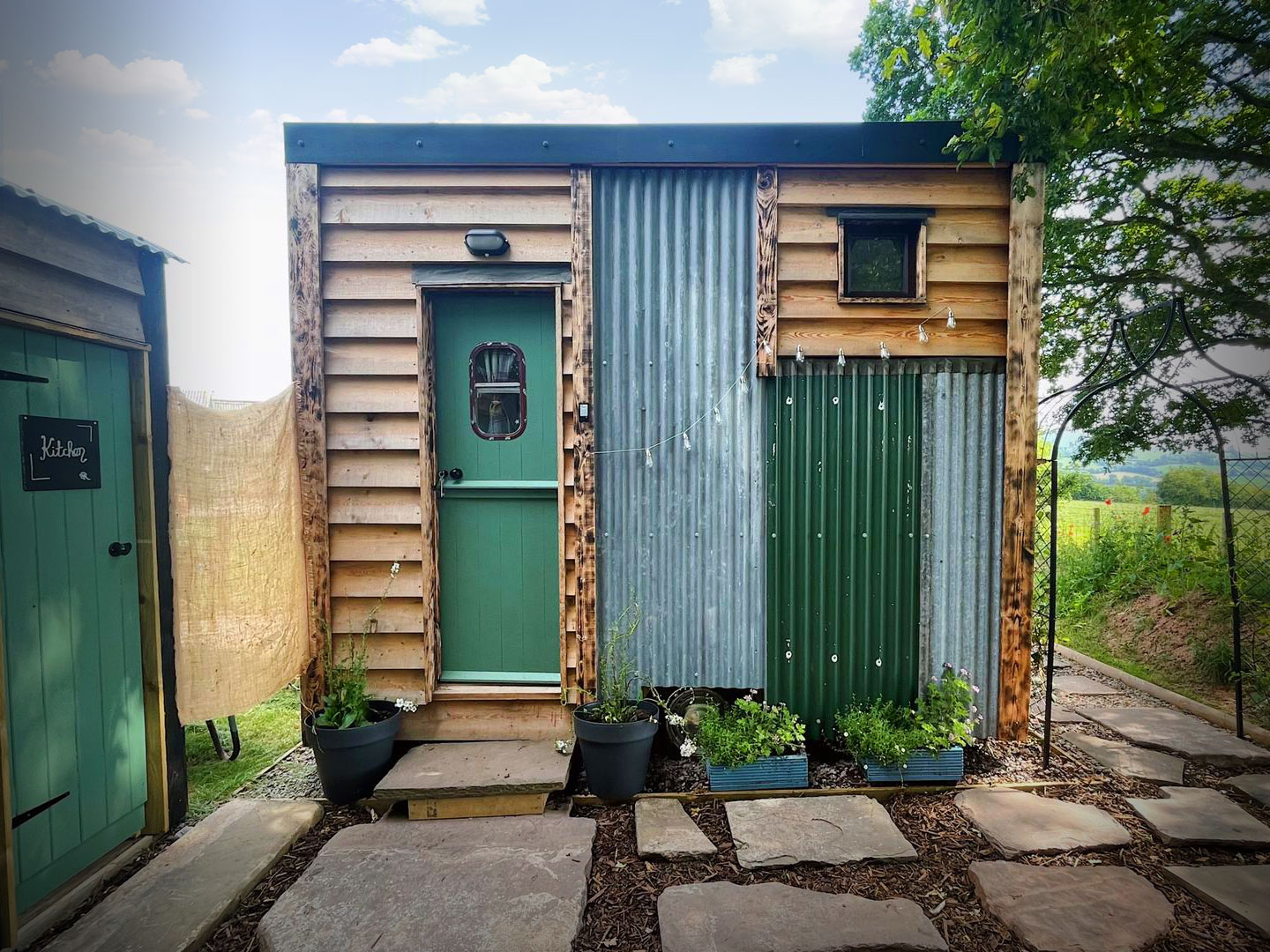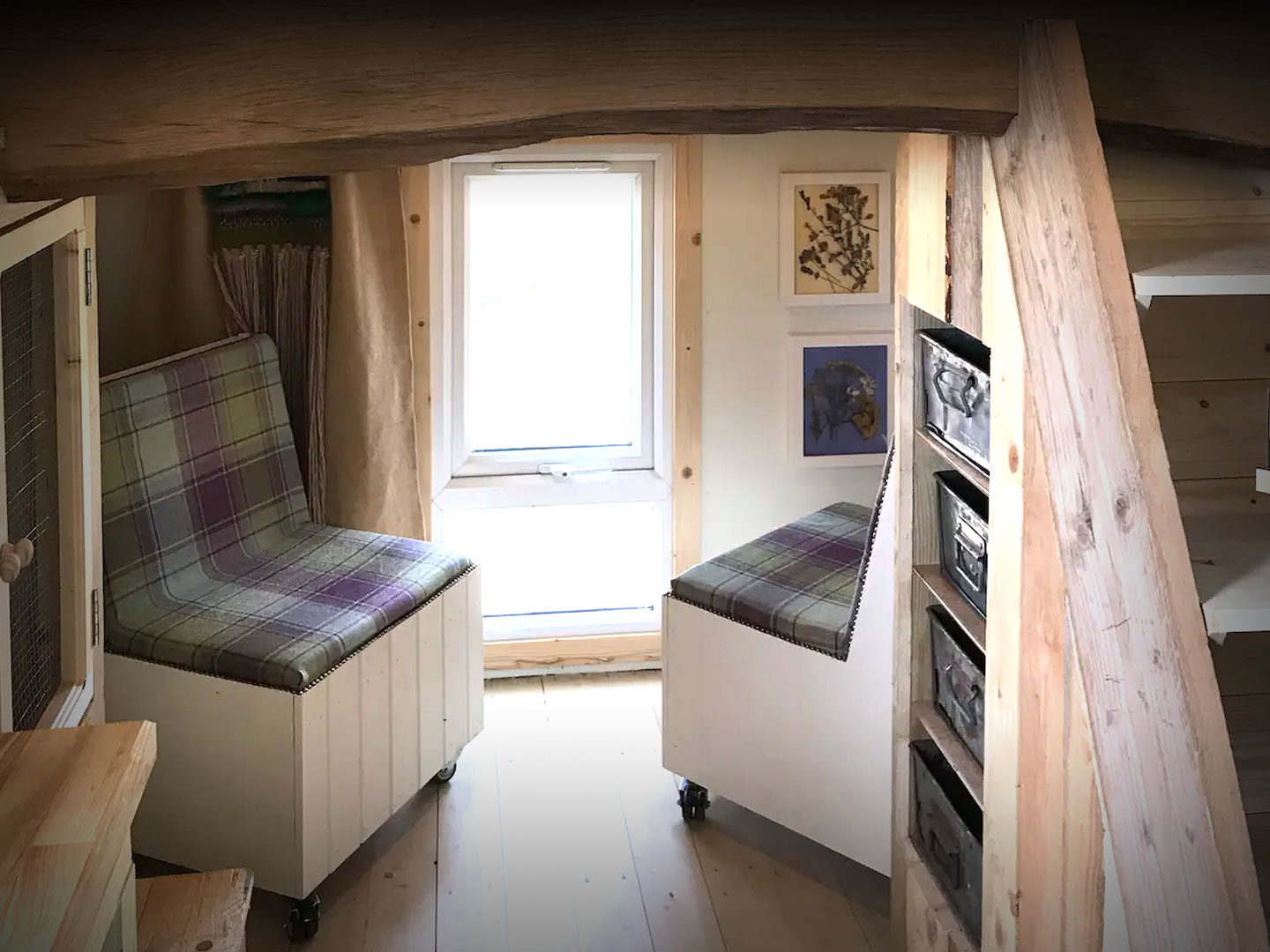 What we provide
---
All bed linen, pillows and duvet

Soap, shower gel, shampoo, conditioner

Towels, dressing gown, slippers, hairdryer

Some complimentary refreshments

Enough wood for one or two fires

BBQ, two-ring electric hob, pots and pans, microwave, fridge, toaster, kettle, crockery, glasses, cutlery and utensils

Undercover outdoor area with WiFi, dart board, video projector and cinema screen
Things to note
---
There's a gravel driveway and private parking. 

There are steps into the Shack and up to the bed. It has a very low ceiling under mezzanine… so claustrophobics beware!

The Cider Shack is 11'6″ x 8′. It's not the right place for pets or kids, but it's absolutely amazing for one or two adults.
How to book
---
Just check availability below then email us with your dates and details. We will get back to you to confirm your booking and arrange payment. You can also book online at any time via our Airbnb pages.
Availability
---
Please note the minimum stay is 2 nights.
Prices
---
1 Apr 2023 – 31 Oct 2023
| Nights | £ |
| --- | --- |
| 2 | 290 |
| 3 | 380 |
| 4 | 470 |
| 5 | 580 |
| 6 | 686 |
| 7 | 776 |
| 10 | 1090 |
| 14 | 1310 |
Had an amazing weekend at the cider shack! Couldn't recommend a more romantic yet quirky place to stay. Laura and Alex (the hosts) were both so friendly and prepare the shack with some lovely welcoming touches. The bathtub is heavenly, didn't want to get out! We will definitely be back 🙂
LOVED our stay at the cider shack, such a perfect place for a relaxing weekend away. Laura was a great host and really helpful if we ever needed anything. The outdoor bath was AMAZING and all the little extra touches just added to it. Would definitely visit again!
From the moment I booked Laura could not have been more helpful. A great welcome pack was emailed to me and then she was available to answers any questions I had. The cider shack is a fantastic place – the view is outstanding and the outdoor cover bath is inspired. It is the perfect place to relax following a day out in the Black Mountains. With it being located on a cider farm … a tasting with Alex is the perfect pre dinner activity!
Laura's Tiny House is really well thought out – it's your own private little commune under a huge oak tree tucked away in the corner of their farm! The plot is designed in a C shape with an incredible view of rolling hills and plenty of sheep to keep you company while you get a fire going or sit in the bubble bath with a glass of cider. Really enjoyed our stay and look forward to returning!
A beautiful and amazingly unique place. It really has everything you need, as Laura has thought of every detail. The bed was really comfy and was suitable for myself and my 6'3″ tall partner. The bath is amazingly luxuriant, with plenty of room for two, bubble bath provided. Lovely views and sublime starry skies to be seen by night. Great walks by foot and many excellent local attractions are a short drive away. Nice pubs in beautiful locations. All round thoroughly enjoyable and relaxing!
Absolute gem of a place to stay. It truly is unique. The place is perfect and Laura the host was absolutely amazing! I will recommend this place to anyone and having some of the farm's cider is a must – it's delicious!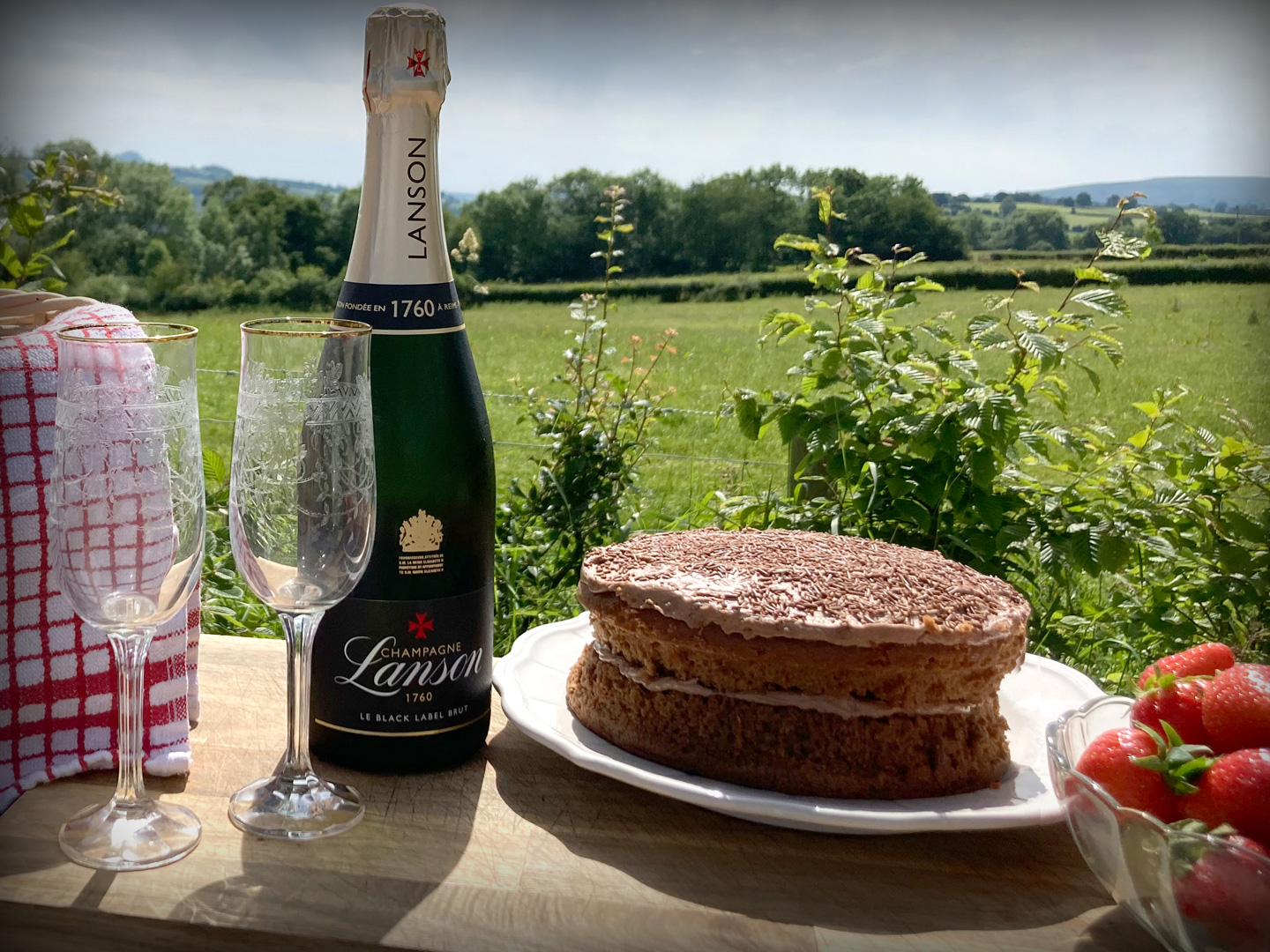 NEW! Celebration baskets
Here for a special occasion? Ready for your arrival, we can prepare a chilled bottle of Prosecco, strawberries and a cake – and put up a celebratory banner. For a little more, you can have Champagne, and add flowers and balloons.
Price on request
We'll share ordering details with you after you've booked your stay.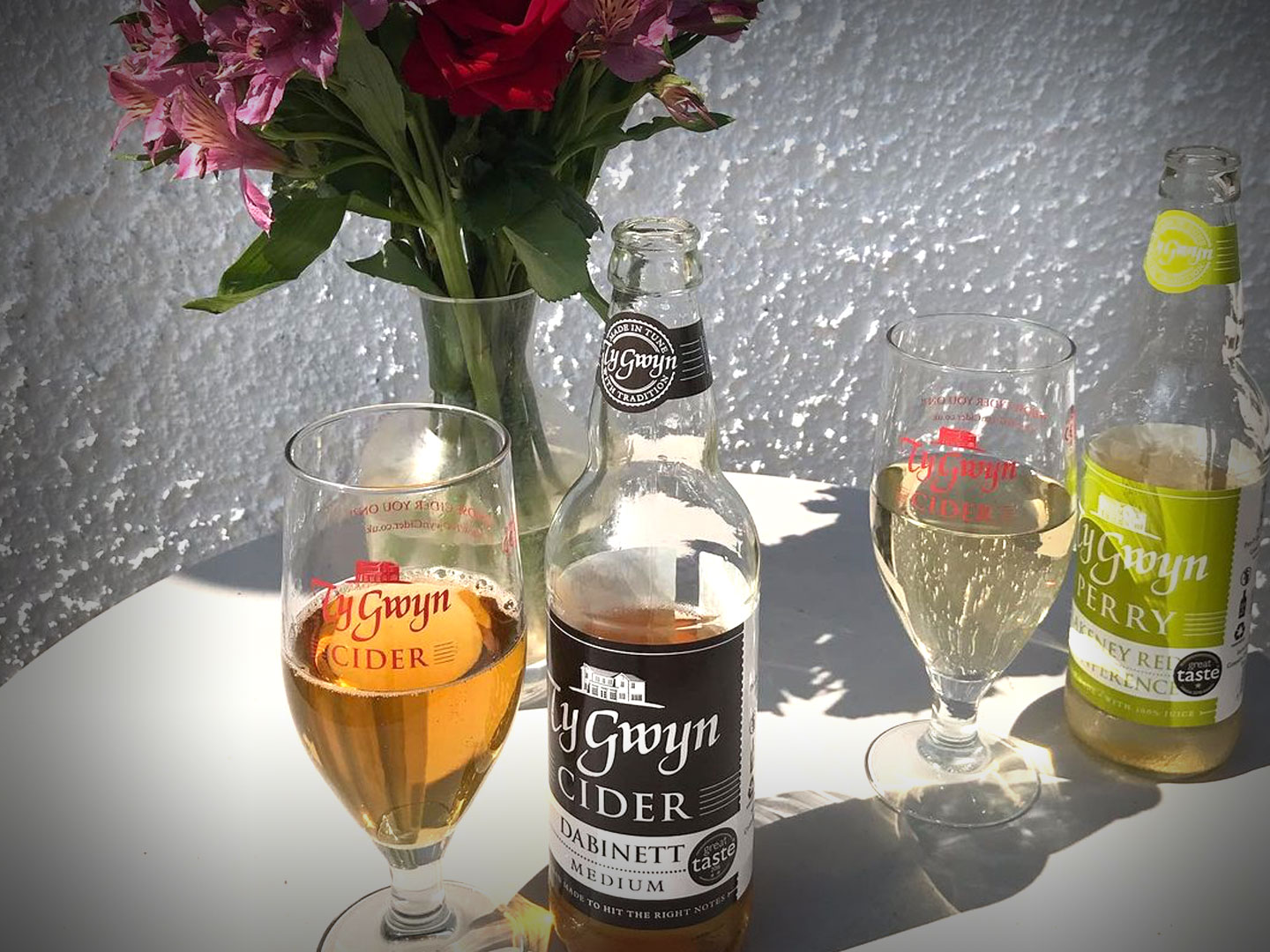 Savour a cider on arrival
Pre-order some bottles of Ty Gwyn Cider at a special guest-only price and we'll pop them in the fridge so they're nice and cold when you get here.
From £14 for four bottles
We'll share ordering details with you after you've booked your stay.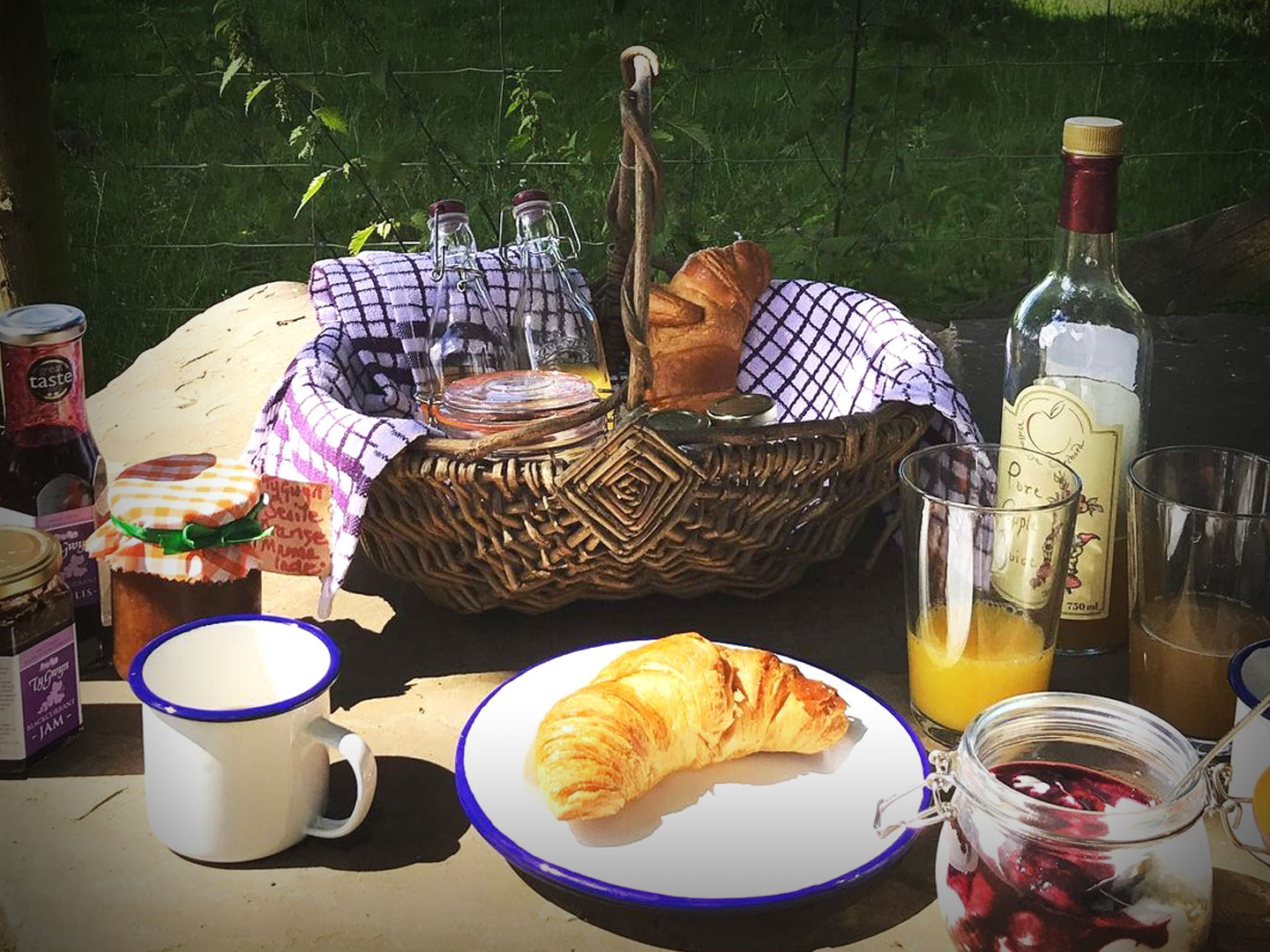 Breakfast baskets
Includes a bottle of apple or orange juice; croissant, butter, marmalade and blackcurrant jam. You also get a gorgeous pot of granola topped with natural yoghurt and blackcurrant coulis (made by Alex's mum and winner of a Great Taste award).
£7.50 per person
We'll share ordering details with you after you've booked your stay.